Så er træerne plantet!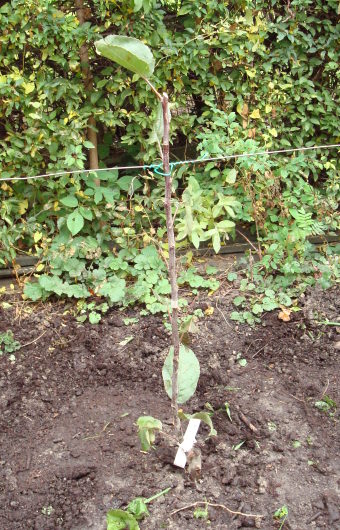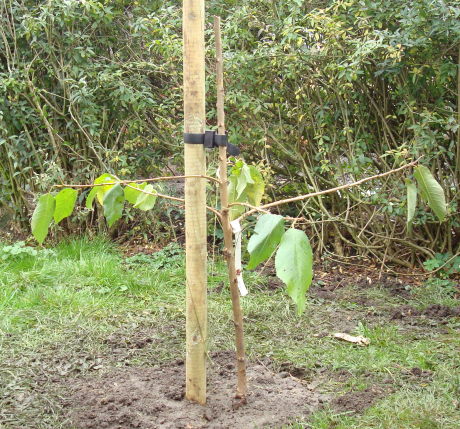 Algoritmen til venstre er et espalier af palmette-typen. Det lille et-års
æbletræ (Rød Aroma, der står et Elstar ved siden af) er klippet af 10 cm over
snoren for at frembringe nye skud til foråret som skal bindes vandret ud til
hver side. Næste år klippes der over en ny snor en etager over, og så
fremdeles indtil i alt fire etager.

Algoritmen til højre er et spindeltræ (sødkirsebær af sorten Stella). Alle grene er bundet ned til vandret med snore, og toppen er klippet for at frembringe en ny etage sidegrene til foråret.
Der er også sørget for redundans, for det tilfælde at et af træerne ikke skulle vokse ordentligt til. Uden de ekstra træer ville "time to recovery" være minimum et år.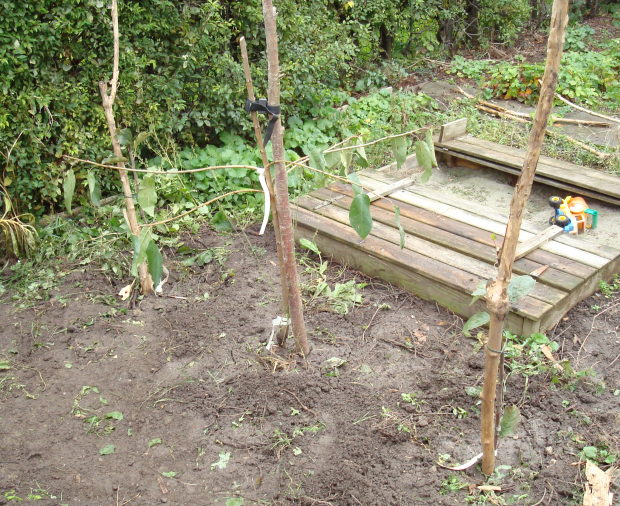 Der er ikke plads til alle de træer i haven, så der skulle være gode muligheder for at tiltuske sig et gratis frugttræ eller to hos mig til næste efterår…
Så er det bare med at vente på foråret, der sker ingenting de næste 6 måneder.