It is conference time for me. I just came home from FOSDEM 2010 where we had a booth and I gave a talk. At the end of the month there will be a company meeting in Iceland for Monty Program, followed by Open Source Days 2010 where I will also be speaking. And then in April there is the MySQL User Conference. With two additional talks given at local user groups end of last year, I think I've about filled my quota for now, I feel quite fortunate that it turned out that I will not also be presenting at the UC! (I do not have a natural talent for speaking, and tend to need to spend quite a lot of time in preparations.)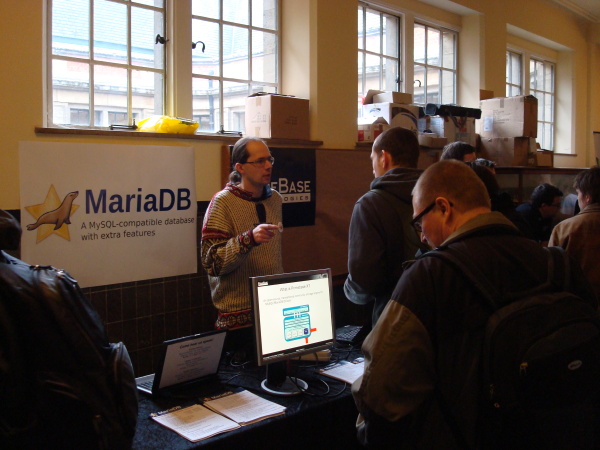 Having a booth at FOSDEM turned out really well I think, as I got to talk to a lot of different people that passed by the booth. I also had a very nice dinner with the PostgreSQL people where I learned a lot about the internals of that database. As well as dinners with people from the MySQL world, also with lots of interesting discussions.
Thanks to all of the people that I met at FOSDEM. It was fun and inspiring to meet you, looking forward to the next time!
One thing strikes me as I am piecing together the mandatory "MariaDB feature list" for my next talk. It seems people tend to focus a lot on the extra features MariaDB has over MySQL. But there is another aspect that I think is just as important: MariaDB is creating an open framework where community developers can work together on new development. This is something that has been missing in the past.
It is easy to focus on a concrete list of features, whereas the idea of an abstract framework is much harder to present as more than buzzword talk. But I will try to get it into my next talk, as I think ultimately both are of equal importance.